Friday 29 April 2011
Princess Beatrice goes to Royal Wedding with two 'black eyes'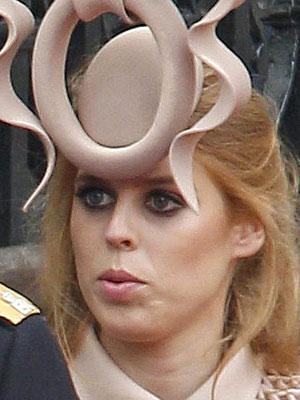 Princess Beatrice must have got ready in the dark
Princess Beatrice usually looks demure, stylish and sophisticated - so what on earth was she thinking when she got ready today for the Royal Wedding?
The Duchess Of York's daughter knew the whole world would be watching!
We know the hat was Philip Treacy but, let's be honest it looks like she's planted one of Kate and Wills' wedding presents on her head.
And for the final awful finishing touch, Princess Beatrice decided to rim her eyes with the darkest brown eyeshadow she could find.
To be fair, her sunkissed skin and glossy lips looks lovely, but - seriously - Beatrice needs to put down her glass of champers and re-do her eye make-up pronto.
We reckon a light beige shadow and a delicate brown liner, slightly winged at the outer eye corners would look much better.
NEW PICTURES Royal Wedding crowd celebrate Kate Middleton and Prince William's big day>>
ROYAL WEDDING GALLERY See the guests arrive for Prince William and Kate Middleton's special day>>
NEW PICTURES Kate Middleton wears elegant lace Sarah Burton dress for her wedding to Prince William>>
NEW PICTURES Kate Middleton and Prince William are married at last>>

NEW PICTURES Kate Middleton and family arrive at London hotel ahead of Royal Wedding to Prince William>>

NEW PICTURES Prince William and Kate Middleton visit Lancashire before the Royal Wedding>>
MORE PICTURES Amazing facts about Kate Middleton - Prince William's wedding belle>>
NEW PICTURES Prince William revealed! Amazing facts about Kate Middleton's man>>
SEE PICTURES Kate Middleton and Prince William: Their love story in photos>>
PHOTO GALLERY Kate Middleton watches Prince William play polo>>
PICTURE SPECIAL Kate Middleton and Prince William appear together at first public engagement>>
NEW PICTURES Kate Middleton and Prince William attend wedding>>
PHOTO GALLERY Kate Middleton gets into Christmas spirit at charity do>>
Charmian Harris