Sunday 21 January 2007
Beauty trend: fluoro-fabulous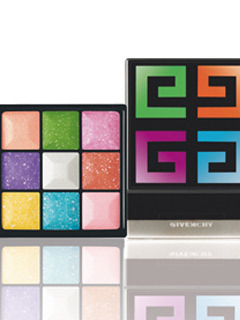 Thought the 80s were put to bed...forever? Think again! Acid brights are all the rage next season.
But this time around, they're tempered with a modern, more elegant finish.
Givenchy Prismissime in 53 Arty Palette
, £31, highlights the on-trend colours perfectly.
But don't worry, you don't have to be a painter to make the most if this vibrant palette.
Follow celebrity make-up artist Pat McGrath's top tip and you'll be a disco diva with style.
'All you need is a burst of colour on the eyelids,' she explains. 'Smear it on with your fingertip so it doesn't look too done.'
And remember to team it with natural-looking, nude skin - no need to turn fluoro-fabulous to fluoro-frightening with too many flicks of a bronzer brush.
Available now at leading department stores. Call 01932 233909 for stockists